It is the little things, the details, the brief moments of joy that bring true delight to one's heart and warms the soul. Thankfully in my line of work, which is constantly changing and quite hectic, I am blessed to have these small gifts, these moments of joy that absolutely make it all worth it.
Below are just a few recent moments of joy . . .
Every couple of weeks we take the children, from the centre where I work, out for the afternoon to a big park called Campo Marte. Where we can all play and run about, or at least the children can, and I can supervise and occasionally run about.
A few weeks ago, we were walking back from the park when one little boy, who can be a bit of an energetic ball of chaos, decided to walk hand in hand with me. His sweet and affectionate side revealed in a moment on tenderness. He reached up and picked a flower from a tree and gently tucked it behind my ear and said, "Una flor para tu cabello señorita Azaria" 'a flower for your hair Miss Azaria.' My heart melted and in an instant I forgot all the times I had to pull him off other boys as their play fighting got out of hand or the times I had to use my stern face and tell him to listen and calm down. He reminded me that beneath his sometimes defensive exterior is a little boy full of love and kindness. I gave him a gentle hug and we continued to walk back hand in hand.
A picture-perfect moment!
There is one girl who is 12 years old and has completely captured my heart. She is the eldest of five in her family. They all live in a single, small room, it is dark and dingy room and even though they try to keep it in order it is difficult in such a small space. She helps her mother with chores and caring for her younger siblings. She also understands that her father drinks too much and sadly she has seen the results of his drinking when he comes home and beats her mother. Yet amidst all this difficulty in her life she is a truly gentle and sweet girl, with such a generous and kind soul. Recently, with a colleague, we took her and her siblings out for a fun day trip, as part of our mentoring program. We played together, rented bikes, did fun activities and ate delicious food. I saw her open her mind to being able to do things she never thought she could. She had started the day by saying 'I can't do that!' but by the end of the day she had learned how to ride a bike and climbed a high-rise obstacle course. She became a girl who can. It was truly moving to watch this transformation as her confidence grew.
The following Monday I was in the centre with the children and she came up to me to say hi with a hug and a kiss on the cheek as usual. Afterwards she whispered to me that she wanted to see me alone, she was acting all shy and giggly. We went into the office and she rummaged through her bag, finally pulling out the cutest handmade paper box I have ever seen. The base was turquoise and the lid a bright red and pink spotted pattern. She had delicately folded the colourful paper to make this delightful little box and inside was a single sweet, coffee delight. I couldn't believe that she had taken time to make me this pretty little box and bought me a sweet to go inside it. How thoughtful and generous. A thank you I will forever cherish.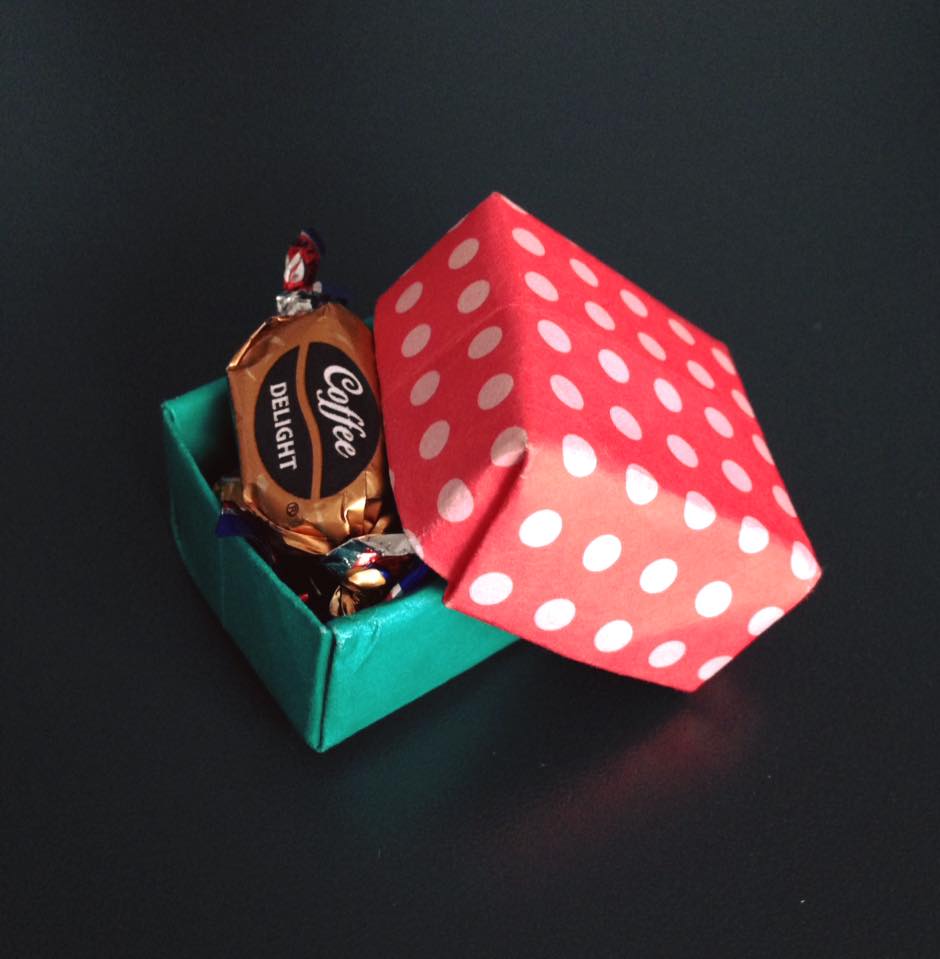 Everybody knows that a cheeky smile on the face of a small boy can soften any heart. Well we have plenty of cheeky little boys here and my heart wasn't hard to begin with, but now it is a bowl of jelly. I have developed a particular soft spot for one of our youngest boys, and with just one look he can make me want to give in and let him have that extra treat, which his eyes indicate he wants so much. Of course, I have to be strong and not give into his sweet face and not show favouritism. He knows he is a charmer and that one quick smile and I melt. It is so nice when you can have that connection with a child in this environment, when they seek you out and want those extra hugs and cuddles. When you know that his home life unfortunately means he is deprived of that love and affection. This little boy is one of ten children, to several different fathers, and he has to fight for any attention he can get. It is obvious that he and his siblings are undernourished and have struggles with stunted growth, potentially through drug abuse during pregnancy. But when he comes here to the centre he can have all the love, affection and stability he misses at home. He can have hugs, stand and hold my hand, sit and lean on me while we all watch a film. He can have opportunities to learn and be cared for. He can be shown the love that every child deserves. A love we all deserve.
These are the kinds of moments that you want to freeze and keep forever. To hold onto and never let go of. They are the moments that bring light and joy to a world where there can be so much sadness and darkness. The children featured in these short stories are real, their difficulties are real, they come from complicated and unstable family backgrounds they suffer things most of us cannot even imagine. Through the help from the centre and the amazing team we have here these children have a safe place where they can learn, play, grow and be children. I feel extremely blessed to be able to be a part of this amazing team and to be welcomed into these children's lives.