This morning I sat in my usual comfy spot by my bedroom window. The sun was still breaking through the clouds, grey and blue divided with rays of beaming yellow and white light. The mountains beginning to reveal their lush green beauty.
Starting my day with prayer, a devotional, and journaling.
I asked God to help me find joy in both the ordinary and extraordinary, having come to realise that it is somewhere in-between where I find myself and the life I lead.
It was only last week that I found myself sat playing a perfectly ordinary game of 'uno,' yet in rather extraordinary circumstances.
I was sat on a pavement of a street in Guatemala City playing uno with a group of young people who call the streets their home. Playing a game of uno I will not quickly forget.
It was last Tuesday morning, the sky was a piercing clear blue, the air still had a slight chill to it, but the sun was bright and strong. When I arrived with Ben, the coordinator of the street team, Emma and Hector (members of the street team) were already sat talking with the small group. As we approached, I noticed one young man, Panda, lying on a mattress. He seemed to be half asleep however, in actuality he was under the influence of the dulling effects of solvents. We greeted the group members and sat with them. Ben got out a game of 'uno' and the excitement of the game brought even Panda, partly, out of his drug induced state of sluggish slumber.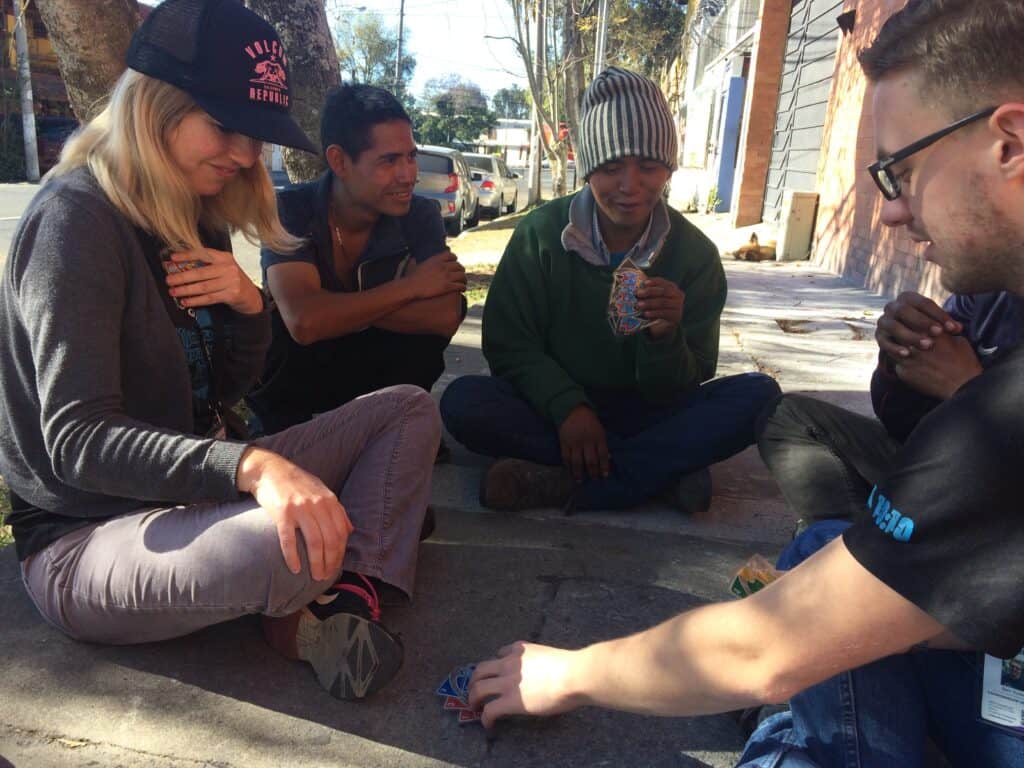 It was in that moment, as we played laughing and enjoying each other's company, that I realised how sometimes I will be caught off guard in a seemingly ordinary moment and suddenly realise how my life is more extraordinary than I ever could have hoped or wished it to become. In these moments I am reminded of what a privilege it is to live where I live and do what I do.
When people ask me, 'what do you do?' it can be difficult to fully explain because of the nature of my job and the flexibility my role allows. This somewhat 'ordinary' game of uno last week is only one example of an ordinary moment reminding me of the extraordinariness that exists in my life.
I'm not sure that if you had asked me ten years ago, 'where do you see yourself in ten years?' that I would have said. "In ten years, I see myself sat in the street in Guatemala City playing uno with a group of young adults who live on the streets and suffer from solvent addictions."
I am not sure what answer I would have given, but I highly doubt that this would have been it.
Yet here I am, living my own extraordinary kind of ordinary, that involves joining our street team on some of their visits and serving people the rest of society chooses to ignore.
And I truly would not have it any other way. The lessons learned through a life like this are invaluable. I get to spend time with a street team who dedicate themselves to working alongside people living on the streets of Guatemala City, with a desire to see their lives transformed and free from addiction and the streets.
And I get to visit and spend time with people who yes, live on the streets and suffer with addictions, but who have taught me about grace, mercy, compassion, love, joy and so much more.